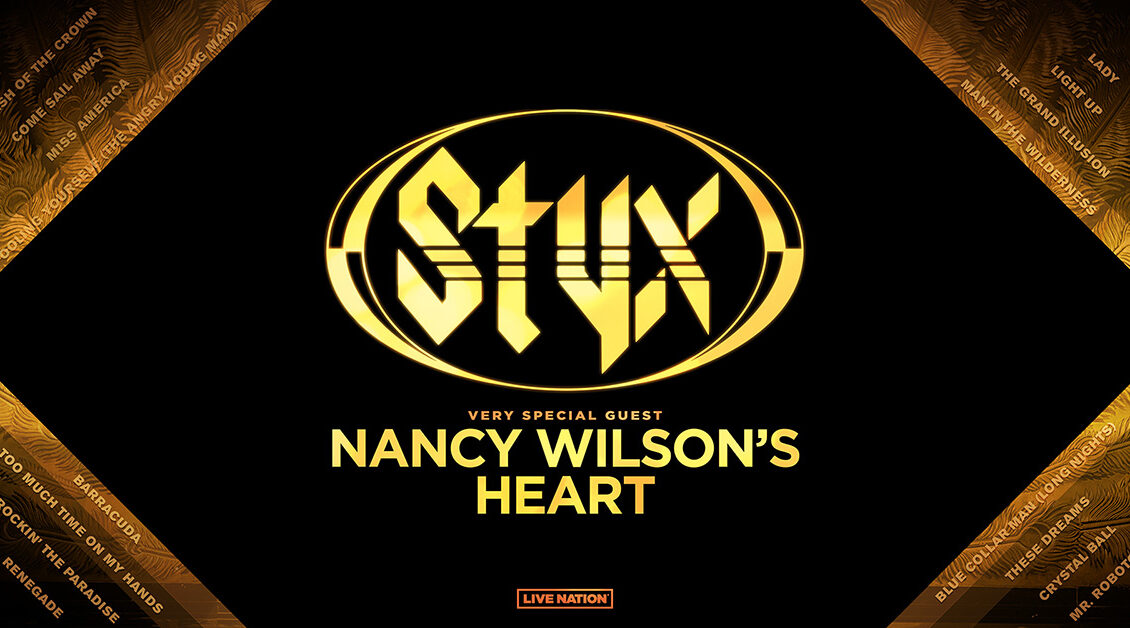 STYX RETURN TO CANADA IN 2022
WITH SPECIAL GUESTS NANCY WILSON'S HEART
TOUR KICKS OFF OCTOBER 5 IN VICTORIA, BC
STYX, the multimegamillion-selling rock band that has forged an indelible legacy both on record and onstage, return to Canada in 2022 for a cross-country live tour alongside very special guests NANCY WILSON'S HEART. Produced by Live Nation, the Canadian tour kicks off October 5 in Victoria, BC at the Save-On-Foods Memorial Centre, through to Winnipeg's Canada Life Centre on October 18.
About Styx:
A new era of hope, survival, and prosperity comes calling with the release of CRASH OF THE CROWN, Styx's new "masterpiece" studio album, which was written pre-pandemic and recorded during the trying times of the pandemic. The multi-Platinum rockers–James "JY" Young (lead vocals, guitars), Tommy Shaw (lead vocals, guitars), Chuck Panozzo (bass, vocals), Todd Sucherman (drums, percussion), Lawrence Gowan (lead vocals, keyboards) and Ricky Phillips (bass, guitar, vocals)–released their 17th album June 18, 2021 on the band's label, Alpha Dog 2T/UMe, which is available as clear vinyl, black vinyl, CD on digital platforms. They released more new music on September 17, 2021, THE SAME STARDUST EP, originally sold as part of Record Store Day (June 12, 2021). Available on blue 180-gram 12-inch vinyl only, featuring two brand-new songs on side one ("The Same Stardust" and "Age of Entropia"), as well as five live performances on side two of some of Styx's classic hits previously heard during their "Styx Fix" livestreams that have been keeping fans company during the pandemic on their official YouTube page, including "Mr. Roboto," "Man In The Wilderness," "Miss America," "Radio Silence," and "Renegade." It's available worldwide on all digital platforms.
About Nancy Wilson:
Nancy Wilson is celebrated as a seminal musician in rock 'n' roll history. A guitar virtuoso from the age of 9, Nancy (and her sister Ann) lead the multi-platinum rock group, Heart, who have sold upwards of 35 million albums. Nancy is revered as an ingenious guitar player, and as a gifted lead vocalist. In fact, that's Nancy singing on Heart's first Number One hit, "These Dreams." As a songwriter, Nancy has co-written a collection of indelible songs that have earned their way into the classic rock canon ("Magic Man," "Crazy on You," "Barracuda," "Straight On"). During an era when females where scarce in rock 'n' roll, Nancy helped carve out a place for women to front rock bands and dominate on stage. Her icon status was cemented when Heart was inducted into the Rock 'N' Roll Hall Of Fame in 2012.
In addition to her storied rock career, Nancy has also built a successful career as a film composer, including lauded scores for a number of Cameron Crowe films such as Say Anything, Jerry Maquire, Almost Famous, Vanilla Sky and Elizabethtown. In 2020, Nancy turned her attention to recording her first solo album. Released on Carry On Music in May 2021, YOU AND ME sees Nancy playing guitar and singing on all the tracks, including 9 new, original songs, and a stunning cover version of Bruce Springsteen's "The Rising."