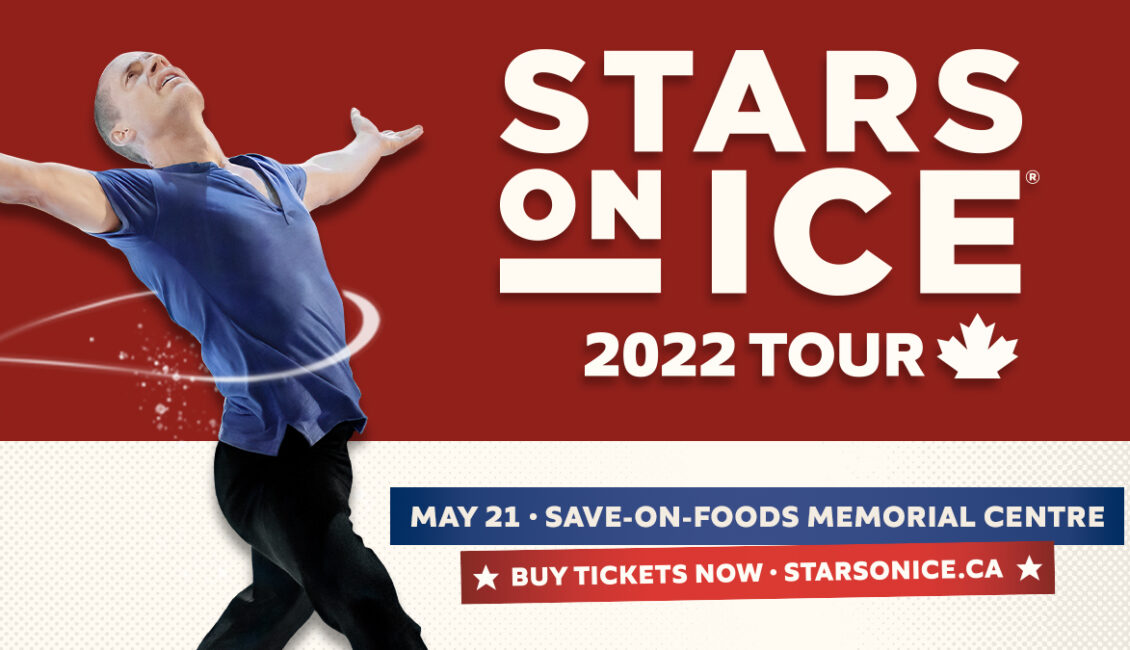 OLYMPIC MEDAL FAVORITES PIPER GILLES & PAUL POIRIER
TO JOIN STARS ON ICE MAY 21 AT
THE SAVE-ON-FOODS MEMORIAL CENTRON OCTOBER 26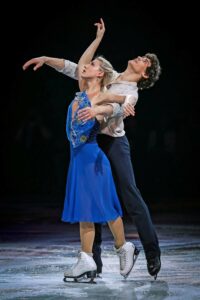 With 29 Olympic medals, including six Gold, Canada has grown accustomed to success at the Winter Olympics. Ice Dance has been particularly strong as Canadians won Gold or Silver in the last three Winter Games. Piper Gilles & Paul Poirier are strong favorites to keep that streak alive. The reigning Canadian Dance Champions and eight-time Canadian National Medalists hope to showcase another medal for all of Canada when they headline the 2022 Stars on Ice tour. The world's premier figure skating show is scheduled to visit Victoria on Saturday, May 21 for a 7:30pm performance at the Save-On-Foods Memorial Centre.
After missing two seasons due to the pandemic, the Stars on Ice tour will bring figure skating back to its loyal fans across Canada following the 2022 Winter Olympics in Beijing, China. In addition to Gilles & Poirier, the 2022 tour cast boasts a lineup of legends and tour favorites, including: four-time World Champion and four-time Canadian Champion Kurt Browning; two-time Olympic Silver Medalist, three-time World Champion and seven-time Canadian Champion Elvis Stojko; Olympic Gold, Silver and Bronze Medalist, 2018 World Gold Medalist and three-time Canadian Champion Kaetlyn Osmond; Olympic Bronze Medalist, World Champion and three-time Canadian Champion Jeffrey Buttle; Canadian Junior Champion and social media sensation Elladj Baldé; three-time Canadian Dance Champions, three-time World Medalists and 2018 Olympians Kaitlyn Weaver & Andrew Poje; and two-time United States Champion Alissa Czisny.
STARS ON ICE TOUR MOVES OCTOBER 26
SHOW AT THE SAVE-ON-FOODS MEMORIAL CENTER TO MAY 21, 2022
All 2021 Tickets Purchased Automatically Transfer to New Date
(Victoria, BC) – In light of the evolving health concerns surrounding the COVID-19 Delta variant in Canada, Stars on Ice has made the difficult decision to move the 2021 tour to Spring 2022. After consulting with local officials, a decision was made that assures the best scenario to guarantee the safety of tour staff, performers and attendees. The world's premier figure skating show scheduled to visit Victoria on October 26, has been moved to Saturday, May 21, 2022 for a 7:30 PM performance at the Save-On-Foods Memorial Centre.
All Stars on Ice tickets purchased from www.starsonice.ca or www.selectyourtickets.com for the 2021 Tour will be honored and automatically transferred, with the same seat locations, to the new Spring 2022 show date. Additionally, all Stars on Ice Meet & Greet passes that were purchased for the 2021 Tour will automatically transfer. Additional ticket information is available by contacting the original ticket vendor.
Stars on Ice continues to be a pioneer in figure skating by offering Canadian fans the rare opportunity to witness some of the world's most accomplished and artistically gifted champions performing together in both individual and ensemble routines. The 2022 Stars on Ice tour promises to once again provide the same level of excitement and athletic triumph that fans have come to expect and enjoy, all delivered by an incomparable world-class cast. To purchase tickets and for additional information, please visit www.starsonice.ca.
About Stars on Ice
Founded in 1986 by skating icon and Olympic Gold Medalist Scott Hamilton, the Stars on Ice tour originated in the United States. In 1991, Stars on Ice began to tour Canada and has now played more than 300 shows in the past 25+ years. Past tour performers include Tessa Virtue & Scott Moir, Brian Orser, Jamie Salé & David Pelletier, and Joannie Rochette. Stars on Ice is produced by IMG, a global leader in sports, events, media, and fashion. For more information about the tour, visit www.starsonice.ca. Keep in touch with Stars on Ice on Facebook: www.facebook.com/starsonice Instagram: www.instagram.com/starsonice, and on Twitter: www.twitter.com/starsonice.