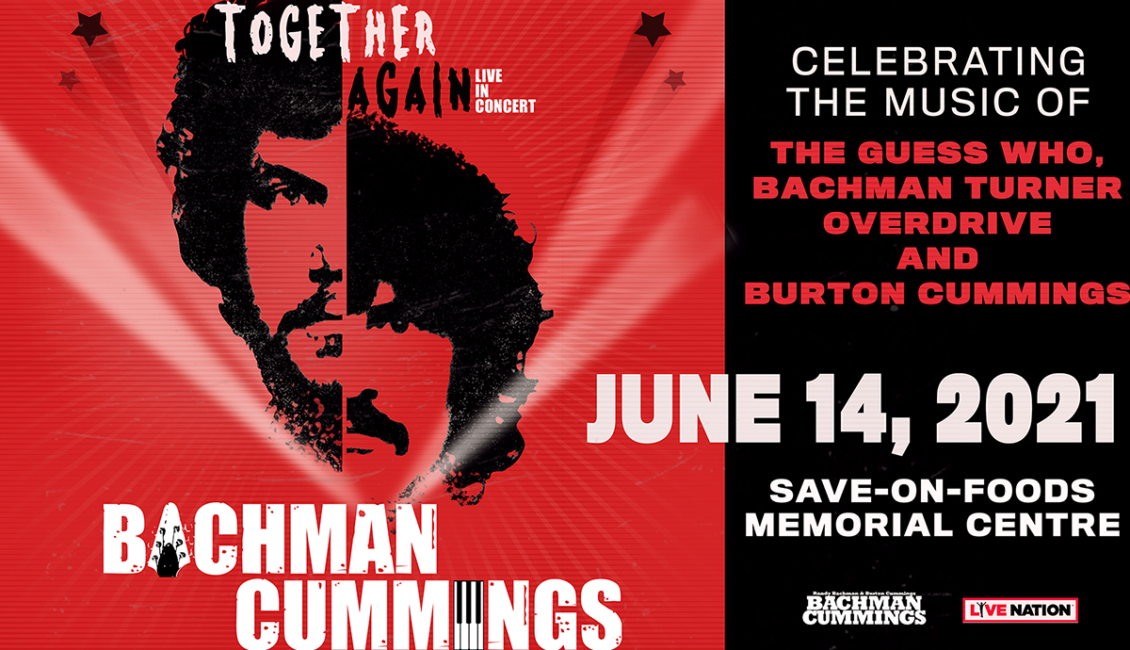 Hi Live Music Fan,
Unfortunately, the event organizer has had to cancel your event.
The good news is we will refund your money including per ticket fees. Please note that order and delivery charges (picked up and mailed tickets) are not refundable. If your tickets were bought over the phone or internet, the refund will be done automatically on our end to the original card used and should post to your account within 10 business days. If purchased directly at the box office window, refunds can be acquired by bringing your tickets during select hours.
After careful consideration, Bachman Cummings have arrived at the difficult decision to announce the cancellation of their highly anticipated tour "Together Again – Live In Concert" tour scheduled for Canada this fall. Randy and Burton extend their love and appreciation to all of the fans that were planning to come to these shows, and they cannot wait to be with you all again soon.
Cancelled:
Bachman Cummings
Save On Foods Memorial Centre
June 14, 2021
Thank you for your patience and understanding. We look forward to gathering and celebrating the live experience together again.
BACHMAN CUMMINGS CONCERT RESCHEDULED FOR JUNE 14, 2021
Victoria, BC – The Bachman Cummings show, originally scheduled for July 6th at Save-On-Foods Memorial Centre, has been rescheduled for June 14, 2021.
All previously purchased tickets will be valid and transferred to the new date. If ticket holders are unable to attend the new date they can request a refund by July 26, 2020. This request can be made by emailing info@selectyourtickets.com, calling 250-220-7777, or visiting the Select Your Ticket Box Office during select hours.
If ticket holders do not choose to request a refund by July 26, 2020 then their ticket will remain valid and honoured on the rescheduled date.